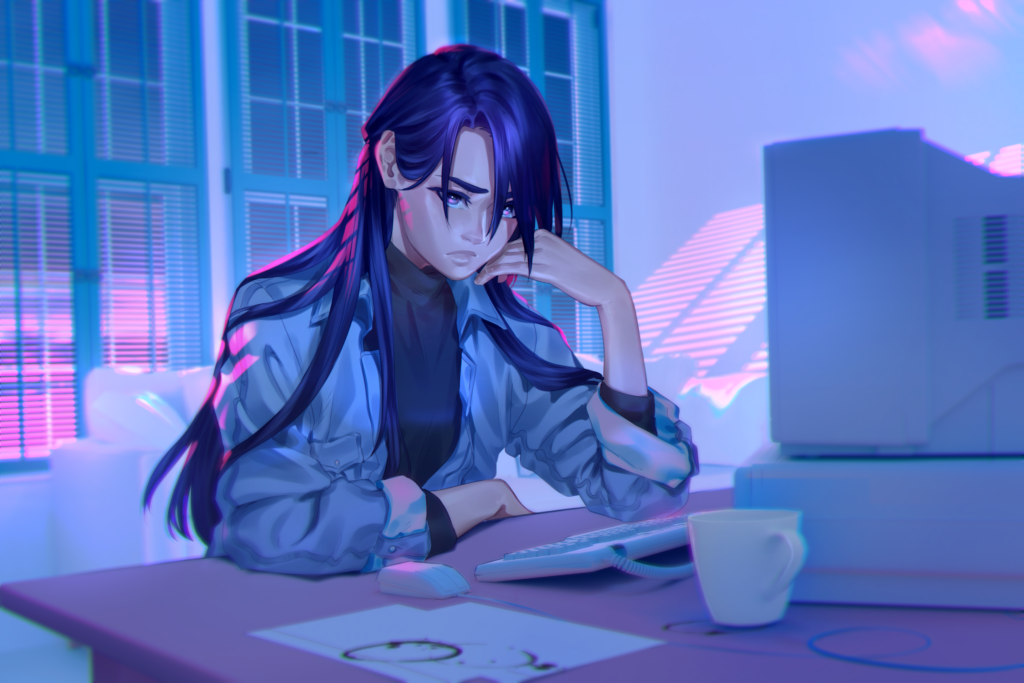 The spring is in full swing, the May holidays are around the corner, which means it is the time for another update!
For starters, we'd like to mention the part of the game that has gotten woefully insufficient coverage so far – its sound design. After all, there is more to the sound of a visual novel than its music; there are also background noises, like of eggs sizzling on a pan, the sound of steps or flowing water. We are aware that you particularly enjoyed the ambiences in Everlasting Summer, so we will try not to let you down with LMR, too!
Next, an explanation is required concerning the topic that has raised many questions in the comments to our previous post. "Why don't we publish screenshots, videos, and recordings of the game development?"
To start with, LMR is a visual novel. The process of making it is fairly monotonous – you'd have to be watching me type the script for hours, and I doubt there would be much demand for that. On the other hand, perhaps this concern is well-founded, and we will definitely considering it for our projects, but I wouldn't like to change anything now when the release is approaching soon.
"Perhaps you could break the game down into episodes?" – some might ask. I am against this solution for several reasons. Firstly, this may sound somewhat pessimistic, deterministic, and, maybe, reductionistic, but nowadays the majority of young adults (the ones that haven't reached their 30s and 40s yet) are entangled in so-called clip thinking – and no matter how amazing the product is, they are ready to consume it, at best, once, but not twice-thrice-ten times, etc. One shouldn't be mistaken: no matter how significant the size of Everlasting Summer community is (and it really is quite significant), it is still a drop in the ocean compared to the people who only played through one or two routes but still appreciated the game. Secondly, this model has only reached mainstream adoption due to purely economic reasons – games are released in episodes only due to the trivial lack of funds. Full stop.
Anyway, I digress, and the main point of the update is to inform you that we continue working on LMR! However, after having analyzed the workload (especially testing and fixing bugs), we've got to relay that the release will take place no earlier than in autumn. Don't get discouraged, though! Autumn is the time in which LMR's story takes place! Leaves turning yellow and warm autumn sun will become an extra ambience that would help you to dive into the world of the novel!
As a goodbye, take another look at Catherine – she's been working all days long to tell you the most detailed story of Nikolai and his friends!
You can still support us by making a preorder and receive all the future DLCs and other valuable bonuses.