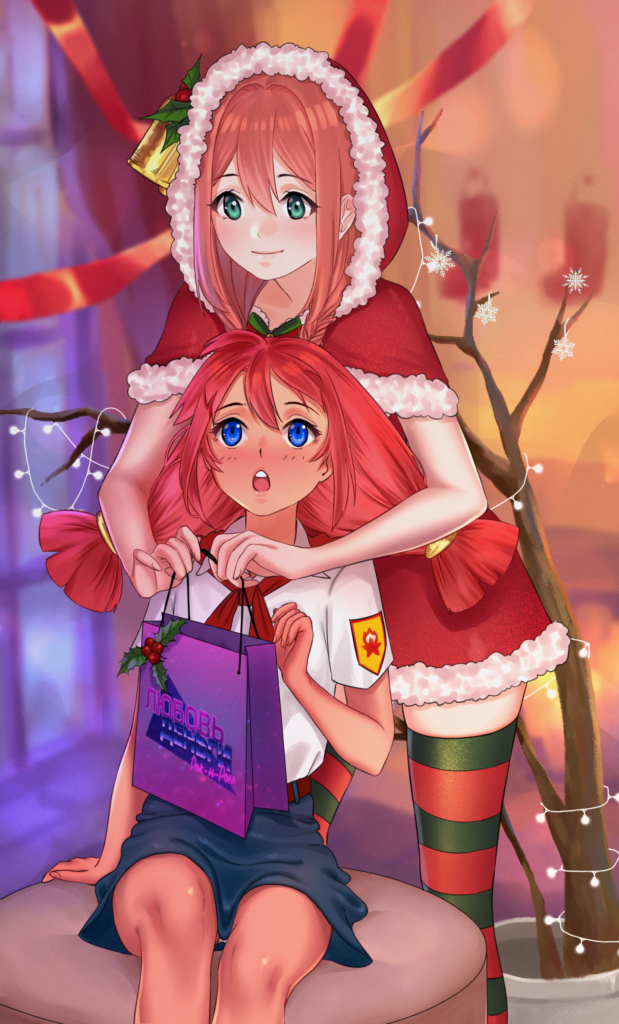 Dear friends,
We wish you a very Merry Christmas and a Happy New Year! May you and your families enjoy peace and harmony in the new decade!

As for us, we are not just turning another page of the calendar, but step into the new era together with you. Merely ten years ago, "Everlasting Summer" was an unknown project from an anonymous imageboard, and now it is one of the most recognisable Russian games. In 2020, we are going to release "Love, Money, Rock'n'Roll", which is an ideological continuation of "Everlasting Summer", although it is not related to it in terms of the story. It also marks a new phase of our development and creative vision.
However, we are not planning to stop just there and will keep working on the new games. We already have concepts, drafts, ideas, but it is too early to speak of it. The most crucial is that we have desire, energy and belief that you will be interested in all this. In fact, every writer writes for themselves first, but it is much easier to persist when one sees that their works are in demand rather than when they are just kept in their drawer. It pleases one even more when they regularly read positive reviews and receive gratitudes from people of all nationalities, ages, genders and social backgrounds.
Internet, and, as I view it, in particular, gadgets have changed our reality dramatically. What existed only in science fiction merely 20 years ago, seems to be an irreplaceable part of our lives now. The distances are getting shorter, people are getting closer and the borders are getting thinner. Now one can talk to everybody on Earth at any time. Of course, if they reply… We have become closer to people, whom we don't know, whom we have never seen and will never see. However, at the same time, we've grown so much apart from the ones, who are next to us. Therefore, in the upcoming year, we urge you to take your eyes off the screen and look around. Perhaps you will find something more important than everlasting memes and Netflix.
You can still support us and get some nice bonuses by making a preorder here.