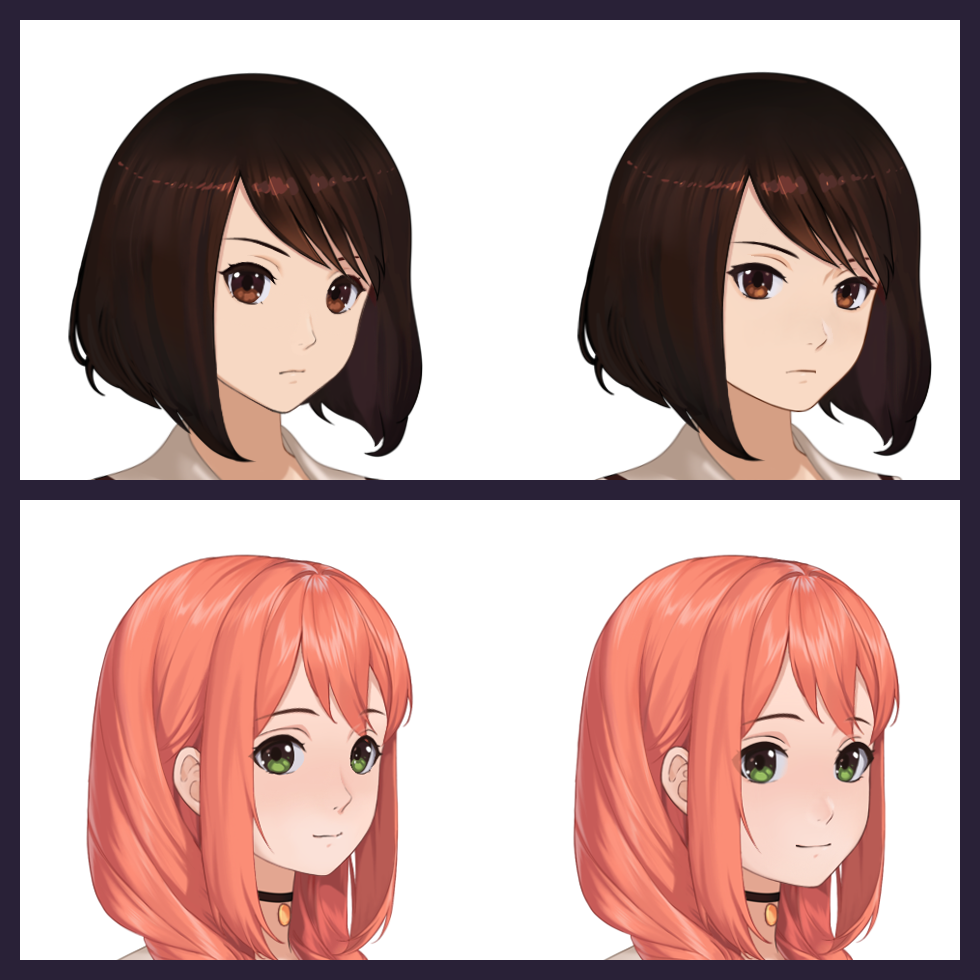 Hello, dear friends! In these complicated times, all of you, we're sure, are waiting for good news. And we have just that! To get straight to the point — you can receive a Steam key for LMR right now!
In the past month we've done the following:
1. Finished additional script direction.
2. Added another two — final — animated CGs.
3. Conducted wide-scale mastering of music and sfx.
4. Finished the system for keeping track of read text.
5. Made a multitude of small changes to a large number of CGs.
6. Added three more animated versions for backgrounds.
7. Added another background.
8. In accordance with our vision (and in big part based on the feedback of the people who have already played the game), remade the faces of two of our main girls — Himitsu and Kagome. You can see their new appearance in this post.
9. Added several more emotions to various characters.
10. Added the ability to play or stop music during game pause.
11. Started displaying the currently playing track during game pause.
12. Added title videos when launching the game.
13. Normalized texture appearance on iOS, significantly reduced game size.
14. Added screen shake effects during some scenes.
15. Added the ability to change screen refresh rate.
16. Implemented the system for Steam key distribution.
There is, however, less pleasant news. Unfortunately, we are forced to delay the release of "Love, Money, Rock'n'Roll" by two months — to August 4th 2022. Let us explain this decision.
The game itself, as a piece of artistic production, is complete (with a few minor details yet to be added — more about that at the end of the post). However, it's been 10 years since the first release of Everlasting Summer; the world has changed, the media space has changed, and we have changed. We cannot simply upload the game on a file sharing service — all of you are waiting for it on Steam first and foremost. And to have it there, we still need to see to a number of procedures not directly tied to the development process. These include marketing, economic, legal, and other processes that are necessary to ensure the studio's continued existence. And, due to the situation in the Russian Federation that we're sure you're all familiar with, we have encountered significant difficulties in this regard. Unfortunately, we are sure that none of you have been unaffected by these events, so we hope that you will understand why we had to take this step and forgive us one, final, small delay. As for the specifics, we cannot disclose everything publically, in part due to contractual obligations. We hoped to the last moment that the newfound problems would be resolved sooner and we would be able to release the game by June 2nd. But man proposes, and God disposes…
Now for a few words as to why it'll be two months specifically and not two days or, say, three weeks. Large companies like Steam and Google aren't just sitting around and waiting with bated breaths for us to deign and provide our game for them to check. Often, verifying a build may take up to a week of real-world time. We have a small, (still) independent development team, and a single person may oftentimes handle a much wider sphere of duties than their colleague in a different company. Unfortunately, in the past two months, we have had to spend a significant amount of time resolving issues that we never intended to be handling in the first place.
As for what we have left to finish in-game: supporter names (first iteration complete, requires some polish) in the credits; developer credits; work on mobile versions, including a new adaptive GUI for them; various minor improvements that we didn't plan on adding initially but would be nice to have if possible.
And finally, regarding key distribution. On our website (NOT in the letter you might have received), you can go to the "Orders" section (https://lmr.su/account), type in your email (the one you used when making the preorder), and receive a Steam key. Game distribution on mobile platforms will start later — they have a very different system, which also became an indirect reason for the delay. You can type in your desired name in the credits on the same page. We tried to load in the nicknames from the google forms that we had received, but unfortunately, not all of them were correctly filled in.
With all of the above in mind, preorders will remain open for the time being, but you will only be able to get your name into the credits until (and including) July 4th. After July 4th, the ability to buy a Steam key will still be open on our website for some time, but without a name in the credits.